Biography:
Born in the San Francisco Bay Area in 1967, Vadge Moore developed an early interest in music and an equally-strong affinity for writing. Drawn to all things grandiose and dangerous, his boyhood heroes were: Who drummer Keith Moon, AC/DC vocalist Bon Scott, gonzo-journalist Hunter S. Thompson and the entire makeup-laden band Kiss. Later, a keen attraction to the dark arts was to develop in Vadge, giving birth to a lifelong obsession with the notorious English Magus, Aleister Crowley.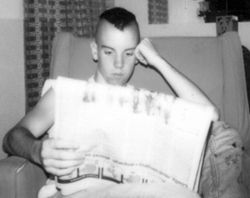 [ Vadge as a teenager. ]

Always fascinated with the violent and perverse, as a teenager Vadge became involved with the early '80s hardcore punk movement, which was then growing in influence on the West Coast. As a result of his early teenage involvement in the punk scene, Vadge was forced to leave a conservative home and subsequently survive on the streets of San Francisco; an environment in which he learned to heed and understand his animal instincts - instincts that would serve him well in his coming endeavors. Throughout the decade Vadge would go on to play in a number punk bands, most often in the role of drummer.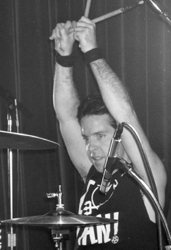 [ Drumming for The Dwarves. ]

In 1988 Vadge Moore joined a relatively obscure garage-rock band who'd recently moved to San Francisco after releasing their first album the year before. The Dwarves, with Vadge as drummer, soon developed a reputation as one of the most wild and aggressive punk-rock bands around. Blending cynical, taboo lyricism and sardonic humor with breakneck punk-rock riffs, The Dwarves quickly became one of the nation's most notorious live acts (often performing mere 20-minute sets that would erupt into band-audience brawls), and pushed the boundaries of so-called "good taste" in their choice of album-cover artwork. Traveling the world with this infamous sleaze-punk institution, Vadge quickly developed a sinister reputation as a heavy drinker, perverse libertine and notorious ladies-man (the band would eventually record a track extolling their drummer's wild excesses and unchecked debauchery, titled appropriately enough "The Ballad of Vadge Moore").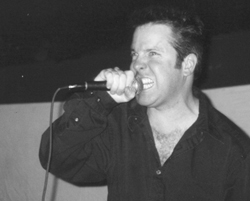 [ Fronting Chthonic Force. ]

Throughout his ten-plus years with The Dwarves, Vadge also found time to record and tour with his long-time friend Wendy Van Dusen in the apocalyptic-rock bands Neither/Neither World and Phoenix Thunderstone, as well as the noise-barrage outfit Chthonic Force (which included collaborations with Boyd Rice of NON, Monte Cazazza of Industrial Records, Peter Sotos of Whitehouse, Cole Palme of Faktrix, and Thomas Thorn of The Electric Hellfire Club). During this period, Vadge also to contributed regularly to the occult journal Primal Chaos. As the new millennium approached, Vadge began to grow weary of music, eventually deciding to amicably part-ways with The Dwarves and pursue his other driving interest: writing.
[ Vadge Moore today. ]

Following his departure from the world of punk-rock, Vadge worked extensively with noise-music pioneer and occult researcher, Boyd Rice on the esoteric occult 'zine Dagobert's Revenge. Vadge contributed a number of articles to Dagobert's Revenge during its half-decade existance, and has also provided various webzines with his occult-related work.
Vadge Moore currently resides nowhere and is presently wandering the Earth.
---
© Vadge Moore / DISCRIMINATE MEDIA, 2015